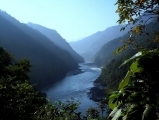 When you do things from the soul, you feel a river moving in you, a joy.

Jelaluddin Rumi
Your eating disorder blocks feelings. It puts layers of obsessive thoughts and actions over your inner self, barricading you from your soul.
But your soul is strong and relentless in remaining present and alive within you. It is health and your guide to recovery and joy.
It may be that you feel a movement deep within, the moving river Rumi talks about. You may interpret that movement as a feeling you need to stop.
Your own soul movement can be a trigger for your eating disorder.
Please be kind and brave. Give yourself a few minutes to feel what you feel. The little movement, the tiny voice from within, may be the strong currents of your own soul wisdom. The experience feels little or tiny because it is pounding on the other side of the eating disorder barricade.
Attend to that movement. Let your soul undermine the eating disorder barrier and release your joy.
Can you acknowledge tiny feelings that may be uncomfortable but are really unknown to you? Can you let yourself feel them a little longer and find out where they lead?