Recovering Your Heart's Desire
Details

Category: Healing Resources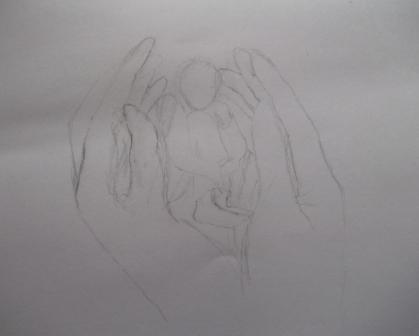 Have you left some of your heart's desire behind. Do you walk past it every day while it or a part of you waits for you to remember?
I ended my blog post, "Change is in the wind," with those questions.  You are responding.
This particular reader, Shh, is finding her way back to her painting, something she cares about deeply but kept in storage for years, far away from her day to day life.  She wrote and included this picture of her first moves toward recovering her heart's desire.
Shh wrote:
I wanted to add this as a comment to our discussion on the site about my thinking about trying my hand at painting again after many years, but I can't see a way to add an image.

I read your comment this morning and it spurred me on to pick up my daughter's sketch pad and pencil from a nearby shelf, and 15 mins later, this had emerged – it's by no means a masterpiece and it's kind of unfinished (although I sort of like it that way), but it's a start!


I see such tenderness in this sketch as the sensitive and strong hands hold the young life. The hands give support and protection while providing openness and breathing room for this new little being to both be and look around in a safe and caring environment.
What do you see?  And what heart's desire is waiting for you to reclaim and recover?
Eating disorder recovery is about so much more than ending eating disorder behaviors. It's about recovering your true self and nourishing yourself with what is meaningful to you.  It's about rediscovering or discovering for the first time what is meaningful to you.
You can't discover what is meaningful to you until you honor moments in your life when you are free of your eating disorder obsessions. It is then you can look for what you genuinely care about.  Step by step, as you make decisions and act on what is meaningful to you, you take time and energy away from your eating disorder.  In time you discover you are creating a life where you live according to your heart's desire.
Thank you, Shh, for permission to post your letter and your sketch. I hope to see more of what you are willing to share with us.
Who's
Online
We have 20 guests and no members online