Family Dinner Research
Details

Category: Psychotherapy and Recovery Work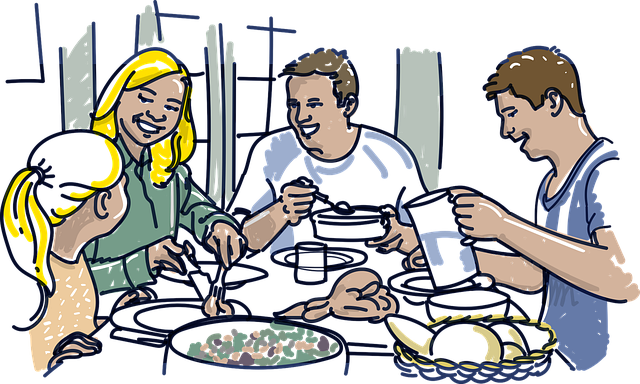 Love and respect are vital in the eating disorder prevention equation.

What eating disorder recovery and health looks like at a family dinner.
Health and recovery means behaving reasonably and practically with a powerful undertone of love, respect at the dinner table. Family and friends show a glad willingness to listen to others and have confidence that they can passionately disagree. Everyone is certain that, right or wrong, everyone in the family loves and will stand by everyone else.
When this underlying atmosphere is brought to daily life in a family, including family dinners, eating disorders don't have a chance to develop. Eating disorder prevention does not mean following a check list of correct behaviors at the dinner table.
Researchers have a tough time factoring love in their eating disorder studies.
I can appreciate the difficulty. I also am dismayed by research results that do not consider the presence or absence of genuine love and respect.
Researchers say
..."what happens at that table has an impact on teens as well. Juggling schedules to make time for eating together, creating healthy, nutritious dishes, and having positive interactions at the table are all components of healthy family meals."
Include love, patience and respect
Yes, these are components. Please include love and respect, spacious time, generous listening, appreciations of differences, honesty and room for laughter and shared passions. Now we're talking about family meals that help prevent eating disorders.
Joanna Poppink, MFT, private practice psychotherapist, All appointments are virtual. E-mail for free telephone consultation.
This email address is being protected from spambots. You need JavaScript enabled to view it.
.
Author of Book:
Healing Your Hungry Heart: recovering from your eating disorder
Who's
Online
We have 55 guests and no members online