How To Find Your Next Step
Details

Category: Healing Resources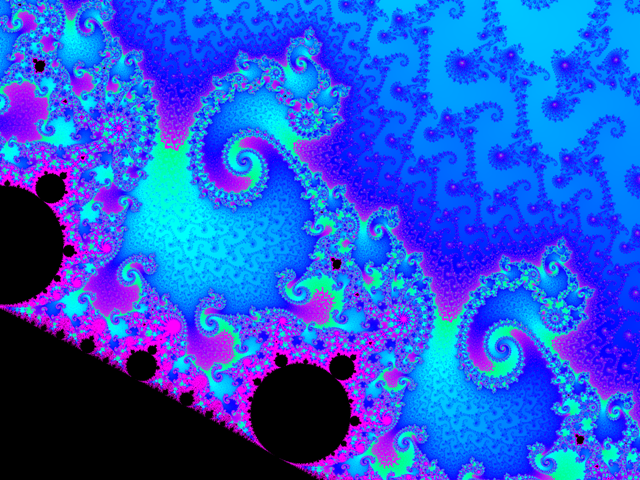 Mmmm.  "A wise man [or woman] will make more opportunities than he [or she] finds."
~Sir 
Francis Bacon
I spent two weeks feeling dark, stuck, lost. I spent those same two weeks thinking about how much light, opportunity and solid home I have. But feeling and thinking can be at odds with each other. My thoughts were good, and I felt terrible. I was at the end of many paths. This was a beginning.
*pix
See the photo? It's part of a
Mandelbrot set
. Isn't it beautiful? It's a process, moving toward infinity, creating within a pattern as it goes.  The pattern may be the same, but it extends, flows, varies and is a natural marvel.  I wonder if our feelings and thoughts are like this.  I wonder if the struggle we experience between thoughts and feelings is the energy that keeps creation happening.
My thinking kept reaching for what might be opportunities and placing them in front of my awareness. My feeling rejected them. But thinking never quit making offers. Finally, feeling, maybe in desperation to stop the thinking activity, started coming up with her own possibilities. She offered them to thinking.
They growled and smiled around each other for a while. Then they both agreed on a course of action. Low and behold, I found two classes I want to take at
UCLA Extension
.
One is a four day intensive writing class in the February
UCLA Writer's Studio
. I chose
 Courage and Craft:  A Writing Workshop to Jumpstart Your Creativity
with
Barbara Abercrombie
.
The other is a class called,
Principles of Sustainability
 taught by
Nurit Katz
and leads to a certificate if I choose to follow it through. I so want to know more about the ecological, economic and environmental issues of sustainability.
I've taken writing classes where Barbara Abercrombie was a guest speaker.  She's terrific.  I'm delighted to have four days of writing under her tutelage.
Nurit Katz is a new discovery.  
Read her bio
.  She's fabulous.  We've already begun a fascinating e-mail conversation.
Feeling and thinking are partners again. I feel alive, happy and energized again.  My normal day to day activities are valuable and interesting again. I ran my dogs in the park tonight instead of a neighborhood walk and the three of us were full of play and joy.
I moved through some kind of barrier and have my feet on my next step.
Did I find opportunity or create it?
What would Bacon say?
What do you say?
Are you familiar with this struggle that comes before a decision and a brighter present?
Who's
Online
We have 30 guests and no members online