Here you will find discussion and personal stories related to the particular stresses and challenges that come with holidays and special occasions.
Suggestions and recommendations are here for moving through these special days as best you can, depending on your level of recovery.
Details

Category: Holidays and Special Occasions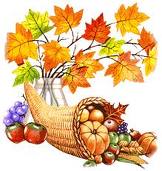 Thanksgiving is upon us. What do you need to understand and care for yourself around food over the holidays? Ask your questions about your eating and food concerns in the comments.
Details

Category: Holidays and Special Occasions
Thanksgiving holiday is closely associated with family and food. If you have an eating disorder, being with both family and food means experiencing stress and anxiety levels that can push you into binge or purge or starve or high drama mode. So many expectations surround the holiday that unless you and your family are mentally healthy and emotionally stable disappointments can flare into painful situations. This year the economic downturn has placed disappointment, shock and fear into many homes. Stress levels in general are particularly high for everyone. It's a paradoxical time of worrying about resources while celebrating and being grateful for abundance. Your challenge: how to take care of yourself at the family gathering.
 
Plan ahead: 
Phase One: Coping with the inevitable
This week end before Thanksgiving Thursday, look into your mind and heart for answers to questions about your family. Be honest. Who are these people? You know them well. If you must have expectations, expect them to be who they are.
Details

Category: Holidays and Special Occasions
New Years aftermath
The week after New Years can be tough. Fantasies around New Years may be more powerful than Christmas wishes. New Years is often a time of hope for the end of eating disorder symptoms.
Tips as Cure? The following recovery tips are not a cure for bulimia or anorexia or binge eating. But they are a way to catch hold of some health so you can take the steps necessary for solid recovery. And wouldn't that be a nice way to start the New Year?
Who's
Online
We have 30 guests and no members online
Healing
Your Hungry Heart - the book