Here you will find discussion and personal stories related to the particular stresses and challenges that come with holidays and special occasions.
Suggestions and recommendations are here for moving through these special days as best you can, depending on your level of recovery.
Details

Category: Holidays and Special Occasions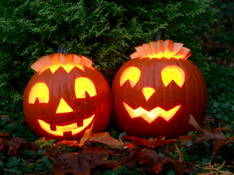 Here comes Halloween and the push to frolic in a candy binge that can lead to headaches, upset tummies, weight gain, irritability and hyperactivity followed by an emotional crash. Beware means be aware so you can care of yourself and the people you care about. Here are some suggestions. These are useful for us all. However, if you are a binge eater you may find these suggestions help you to enjoy a holiday that may otherwise cause you some eating disorder recovery anxiety.
Details

Category: Holidays and Special Occasions
New Year's is a splashy holiday where people celebrate with parties and, too often, with excess. It's a time to make grand resolutions. But what about New Day's? We get a new day every 24 hours. We can follow through on our goals, make a fresh start or begin our lives in a new direction.
What looks better to you? The blast of the New Year? Or the unfolding of the New Day?
Details

Category: Holidays and Special Occasions
To prepare for Christmas challenges we need to look at the powerful impulses that rise up in you. These are the impulses that can and do knock any planned strategy to the side as you rush for the soothing food that promises to put you at ease.
Knowing what you're up against is an excellent way to prepare a successful get in and stay in-recovery Christmas that you will enjoy in surprising new ways.
Details

Category: Holidays and Special Occasions
Christmas is coming up soon. Even during an economic recession Christmas often means gifts, sparkle, razzle dazzle, parties, shopping and lots of holiday food. The gifts may be smaller or more few this year. Shopping may be more frugal for many people. Holiday food is likely to be holiday food. Perhaps people will bake more this year than hit the bakeries. Maybe we'll see a return to home made fudge and peppermints. Home made candy apples and strings of popcorn decorating the trees may make a come back as well. But any way you look at it, despite the cash reduction in countless households, people will do their best to create Christmas based on their traditions.
So what about you? Do you have an eating disorder tradition? In a full blown eating disorder, what are or were your
Who's
Online
We have 20 guests and no members online
Healing
Your Hungry Heart - the book