Encountering Thresholds in Our Lives
Details

Category: Healing Resources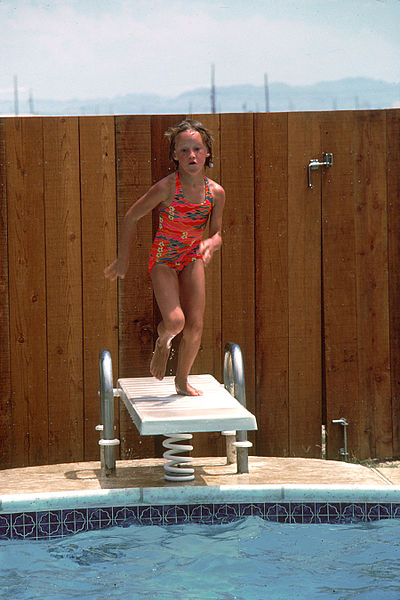 Threshold issues are a huge force in your life, whether you are aware of them or not. The issue of threshold is around us every day, perhaps even every moment. Perhaps it's timely to look at it as we prepare to cross over from one year to another. But raising our threshold consciousness is timely at any time.
*pix This little girl is crossing a threshold. She's crossed many. See below.
What's a threshold?
1.
A piece of wood or stone placed beneath a door; a doorsill. This is support for the entry and support for your feet or vehicle as you pass through that entry.
2.
An entrance or a doorway. So a threshold can be physical but covers more than physical territory.
3.
The place or point of beginning; the outset. Beginning or outset implies a point where what is established is behind and what is new is ahead. This doesn't mean the new is known or even that the pathway, if there is one, is linear.
4.
The point that must be exceeded to begin producing a given effect or result or to elicit a response:
a low threshold of pain.
This refers to territory (mental, physical, emotional, spiritual) that involves different experiences, responses, challenges, information, insight, awareness than what is known from what is already established.

If we are growing, learning, developing we meet thresholds and cross them on a regular basis in our ordinary lives. When you reach the curb of the sidewalk you've reached a threshold. Your next step will put you in the street where cars may be moving. If you are aware of this change, have physical balance to step down, have awareness and common sense about traffic patterns, speed, traffic signs, you meet the qualifications necessary to cross this threshold safely. So you read the signs around you, step down when you decide it's appropriate, and cross the street. You've met the necessary criteria and satisfactorily negotiated a threshold.

Entrances are thresholds and entrance requirements that must be met in order to cross the threshold are familiar to you in our culture. You have to meet the criteria for threshold crossing if you are applying for a job, a slot as a student in a school or university, applying for military position, various competetive sports, position on a team preparing for a task ranging from debate to mountain climbing.

If you manage to get across the threshold without meeting the criteria, you are not equipped to cope with the new and different world on the other side. Cheating, talking your way in, pulling strings, slipping by unnoticed might get you across the barrier, but you still have to cope with the world you meet on the other side.

The criteria for crossing does not exist to keep you out. It's there to ensure that you can survive, cope and thrive once you get in.

When you discover a threshold you want to cross and simultaneously discover that you don't meet the criteria, then you have your task before you. Find a way to meet the criteria. In other words, equip yourself to be able to cope with icy peaks when climbing Mount Everest or solving calculus equations at Cal Tech or maintaining a gracious demeanor as your brain scans cultural ramifications of a decision in the diplomatic corp.

But these are criteria that are spelled out for us. Other thresholds, like marriage, becoming a parent, leaving home, also have criteria but you are more free to jump in whether you are prepared or not. If you feel fear or anxiety at the point of a decision you may be noticing that you are nearing a threshold. You anxiety is a clue that you would be wise to check your preparedness because what it takes to survive and thrive on the other side of the threshold is something new and different for you.

Do you know enough to survive, cope and thrive on the other side of the threshold? Probably not. You learn as you go. What you need to cross the threshold is the bare minimum to begin. Have you got it?

If you feel stuck in your life you may be at a threshold you are not yet prepared to cross. Can you find a way to meet the necessary criteria?

Recovery is a threshold. Anything that seems just out of reach for you is an indication that a threshold is near.
What do you need to meet that threshold?

Often, the first requirement is to know that a threshold exists and is there for you when you are ready. Of course, some thresholds lead to negativity. If you cross over into a world of crime, for example, you change your life in a negative way. So recognizing a threshold and appreciating the criteria you must meet to cross that threshold gives you a good indication of whether or not this direction is what you want to follow.

Does the criteria demand that you weaken yourself or strengthen yourself? Must you become more deferential to standards you don't honor or must you become more confident and sure as you stand up for what you do honor?

I'll write more about thresholds. I think about this subject regularly. It's time I started putting these thoughts in print.

Here we are together as 2013 winds down and 2014 begins. Happy Threshold Crossing to All! :)


*Pix
Description A 9 year-old Caucasian child at a swimming pool and running on a diving board. She is a long-term survivor of massive abdominal surgery at age three for neuroblastoma. She is presently disease-free.
This work has been released into the
public domain
by its author,
Linda Bartlett (Photographer)
.
Who's
Online
We have 25 guests and no members online