Here you will find articles discussing the various ways culture and media can affect both the development of an eating disorder and eating disorder recovery.
Links to various articles in the news and other websites and blogs representing cultural voices will be posted here along with commentary.
Details

Category: Culture and Media
The
Black Swan
artistic creative team bring the anorexic lived experience to the screen. Women with a history of bulimia and compulsive overeating identify with part of Nina's experience, especially the confusion between fantasy and reality.  But the person with severe anorexia is described meticulously.
Details

Category: Culture and Media
Leona Gage reaches pinnacle of acknowledged beauty only to lead a sad and difficult life. If you obsess about your beauty, youth and shape, please take heed.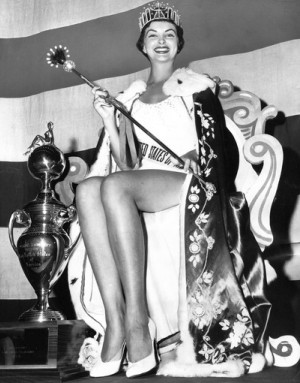 Leona is 18 in this 1957 picture, just crowned as Miss U.S.A. She's pretending to be 21.
Truth behind the photo? She married at 14. At 16 she had two children.
Details

Category: Culture and Media

Congratulations and thank you to Chevese Lewis for helping to bring natural and healthy body acceptance back into the perceptions of women. 
A woman's body is a miracle of creation, adapting and changing over the years to allow her woman to live fully in
Who's
Online
We have 19 guests and no members online
Healing
Your Hungry Heart - the book