Women's March: for women, men, children, health and yes, eating disorder recovery
Details

Category: Culture and Media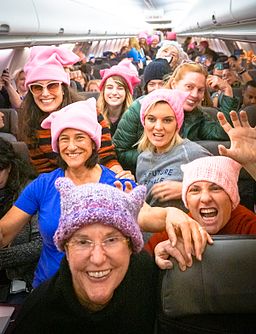 Alaskan Airline flight 6 in pink from LAX to Washington, January 20, 2017 for Women's March *pix
"I love America - the place where people come together around a common cause and have some fun at the same time, all on their way to the best city in the world - Washington, DC USA :)." by photographer Ted Eytan

My job, my commitment, dedication, study and my heart for over 35 years centers on healing, women's recovery from eating disorders and their flourishing in the world.

I know at the core of an eating disorder is insecurity, fear, powerlessness, dependency on the insubstantial, vulnerability to false promises, a learned helplessness and, I repeat, fear.

I can no longer only quietly do work in my office with patients and write quietly in my study. Public action is required.
The exterior world is taking a turn for the worse and creating more causes for fear, and all the underpinnings of an eating disorder. Taking action publicly is essential now, even for a psychotherapist.
When I was deep in my bulimia, isolated and in despair, when almost no one knew the word bulimia and no one in my life knew I was trapped in an almost non stop binge purge cycle, I saw a TV interview where Jane Fonda revealed her own bulimia.
It was the first time I had ever heard anyone say it, describe it, admit to it and in public. She gave me the moment that turned my life around. And what an activist she is now for women's health and well being everywhere.
Go, Jane!
Go all of us!
MASSIVE INSPIRING AND UPLIFTING PROTESTS WORLDWIDE
*pix
This file is licensed under the Creative CommonsAttribution-Share Alike 2.0 Generic license.
Who's
Online
We have 25 guests and no members online