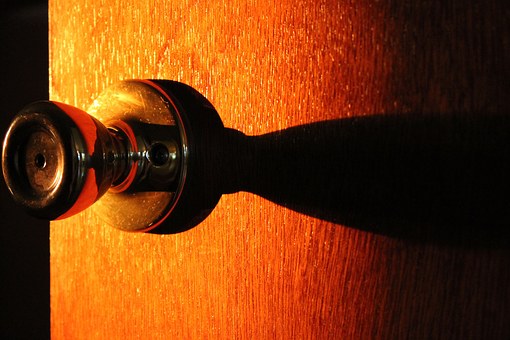 Doors can open for you if you knock or simply turn the handle.

Here you can find articles that may answer your questions and support you in your personal recovery work.
You'll also find a series of inspirations and affirmation that may help you stay on your healing path.

Please remember, helping yourself does not mean going it alone.  Helping yourself means discovering what what you can do to support your own recovery.  That includes how to recognize opportunity and reach out for what supports your health and personal development.

When you help yourself you are looking to people as well as books, websites and classes, who are in a position to offer you genuine recovery help on your journey to healing.

Open new doors to find your recovery path.
Moving through constant challenges of life while living with an eating disorder presents stress and demands coping skills often unavailable to someone not yet in recovery or in early recovery.  This section consists of articles that tell stories and describe situations that people with eating disorders face regularly.  It offers suggestions and makes recommendations designed to help a person cope with healing challenges in every phase of recovery.


AFFIRMATIONS FOR EATING DISORDER RECOVERY AND HOW TO USE THEM


*pix

Here you will find a list of tested affirmations that can be helpful in your quest to end a lifetime of living with an eating disorder.



How to use affirmations effectively:

       1.  Commit to following the affirmation procedure for 30 days.

       2.  Pick three affirmations.  The right affirmations for you are those make you think:

"If I really believed that, my life would be a lot better."

"I wish my life were like that."

"That's too good to be true."



       3.  Say your affirmations out loud three times every morning, afternoon and evening plus just before you go to bed. At least once a day or more, say them out loud to yourself as you look in a mirror. A full length mirror is best.


Techniques and why:



For 30 days

•    Read out loud three times as you stand in one place. This prepares your inner self to receive the affirmation.

•    Read out loud three times as you walk around a room or outdoor area. This helps ground the meaning into your body and also makes the thought and feeling familiar and comfortable in particular and different environments.

•    Read out loudthree times in front of a mirror, looking at your reflection as you speak. This helps you see yourself listening and helps you accept the strength and awareness you are giving yourself.


Timing:

At the end of 30 days you can decide to continue with the same affirmations for another 30 days.  You can begin with a new set of three or keep one or two and add a new affirmation. You will have a sense of what you need to do as you become engaged in the process.


Affirmations:

Here is a list of 134 affirmations from which to choose. Feel free to add to your personal list at any time.


(If you find or create affirmations of particular value to you, please send them to Joanna, and we will consider adding them to this list.)  

*pix  CCO Public Domain



Coping Strategies

To all readers who are in any stage of eating disorder recovery, this page is an offering of substance and nourishment for those times when we are emotionally vulnerable and in need of reminders of how to keep faith with ourselves. My hope is that we all learn to reach for inspiration rather than any mind numbing behavior. Rather than retreat we can nourish oursevles with what we need to keep us in life, in positive space, in courage and love. Please consider these quotes a selection of inspirational treats. Reach for one whenever you wish.

At any time in recovery we can reach moments, sometimes extended moments, of bewilderment, pain and isolation. We think we have descended into a vast dark emptiness from which we can never emerge. We feel that "this is the way it really is." Maybe we are remembering or reliving a time of rejection and abandonment when we were too vulnerable and immature to care for ourselves. Maybe we are in a clear and new space of health in which we have no tools, thoughts or sense of direction to help us understand our experience or our choices.

At such times, other voices of wisdom and experience can enter our empty and frightened state. We can use our loneliness to reach out for wisdom from people whose experience can inspire and reassure us now. These voices can help give us direction and rekindle our energies so we can move in the best way we can to create the best lives we can for ourselves.

I invite you to read through these inspirational quotes regularly. Your heart and mind will pause at the quotes that are right for you at any particular time. Let them nourish you. The first quote is a favorite of mine that never ceases to sustain me. Read on and discover your favorites.



Here you will find "Triumphant Journey, a self guided workbook to help you recover from an eating disorder.

This is a step by step action plan that can guide you to your genuine healing path.  You can use it on your own.  You can use it as preparation for beginning treatment.  You can use it with your psychotherapist as an aspect of your recovery work.

 

Topics Include:

kinds of overeaters
benefits of moderate eating
dilemmas for the overeater
personal tools needed
how secrets relate to overeating
affirmations

Special Exercises to:

stop overeating
increase inner strength
discover secrets

develop self respect

Let's get started!
Who's
Online
We have 36 guests and no members online